HOTEL TIFFANY
A SWEET HOTEL
Welcome to Hotel Tiffany! We are a small boutique hotel located centrally on the vibrant Vesterbro close to the Central Station, Metro (50m), Tivoli and close to many exciting restaurants in "Kødbyen". At the hotel, we emphasize that our guests always receive personal service and feel welcome. We are here to help you have a comfortable stay, while you enjoy all that Copenhagen has to offer! You are always welcome to come by the reception and ask for help or just have a little chat and good advice about Copenhagen or enjoy a free cup of coffee. The reception is the heart of the hotel, where you always can find help.
We are constantly trying to improve our service and room standard. If you have ideas, praise or suggestions for our way of running a hotel, we would love to hear from you!
We hope you enjoy your stay at Hotel Tiffany.
Yours sincerely
The staff
Hotel Tiffany
Værelse:
Reservationsnummer:
Ankomst:
01/01-1970
Afrejse:
02/01-1970
(check-ud senest kl. 11:00)
The reception is open every day from: 
8am – 8pm
DR1
DR2
DR Ramasjang
TV 2 
SVT 1
SVT 2
NRK 1
TV 4
BCC World
ARD
ZDF
There is a free fiber network throughout the hotel:
User name: Hotel Tiffany
Code: tiff0220
Breakfast at Hotel Tiffany consists of Nespresso coffee, tea, juice, rolls, pastry, yoghurt, butter, jam, cheeses and fruit. We try as much as possible to use organic ingredients in our breakfast basket.
Every day a breakfast basket is put in the fridge in the room and approx. at 8am, we hang a bag of freshly baked rolls and pastry on the room door. You decide what time you would like to eat your breakfast and you enjoy it in the room. And don't worry! We do the dishes when we come and clean your room.
If you have booked your stay without breakfast, you can purchase an extended continental breakfast at the reception. We just need to know this no later than the day before 8pm, and the price is DKK 85, – per person per day.
If you have to leave early and are unable to get our freshly baked rolls and pastries delivered to the door, it is also possible to have toast bread delivered to the room the day before, which you can toast yourself in the room.
Bon appetite!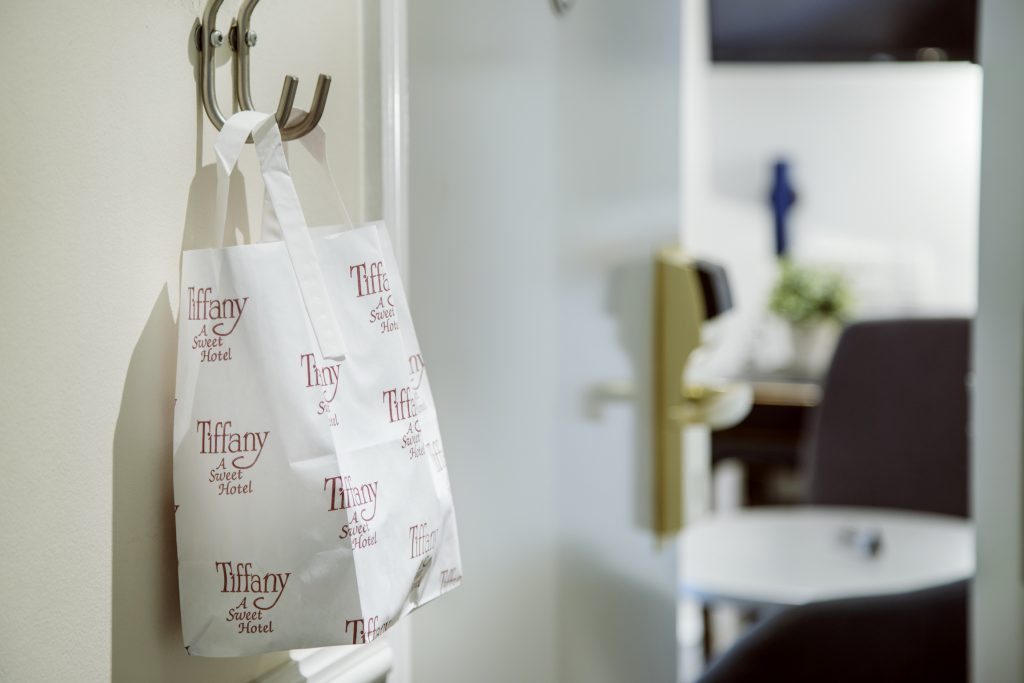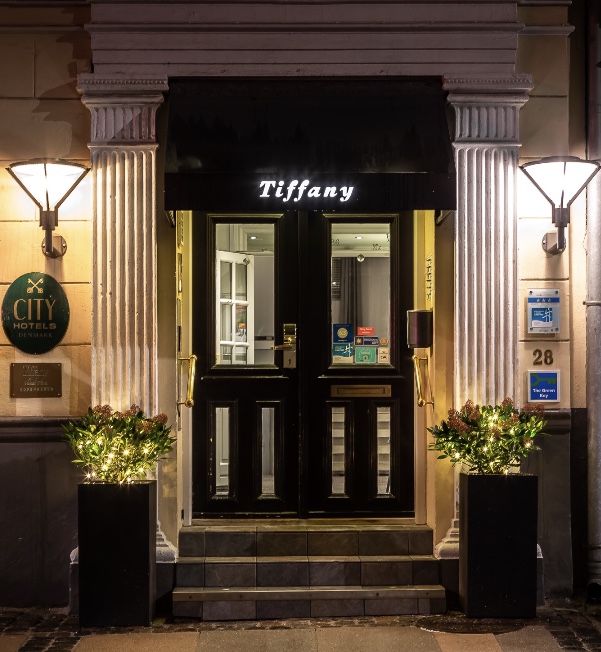 The room can be used until 11am on the day of departure. It is possible to have your luggage stored at the reception during the period 8am – 8PM.
If you need a later departure, you are welcome to inquire about the possibilities at the reception on your day of departure.
Trash
Newspapers, magazines and bottles are placed on the floor next to the waste bin. Please put used batteries on the kitchen table.
Pharmacy
Steno Apotek, Vesterbrogade 6C, 1620 København V, tlf.: 3314 8266. The pharmacy is open 24 hours a day.
Luggage
Can be stored at the reception from 8am to 8pm. The hotel cannot take responsibility for the luggage. Locked luggage boxes are available at "København Hovedbanegård".
Fire
In the event of a fire, call 112 and follow the safety instructions in the room.
Books
Can be borrowed free of charge from the shelf in reception.
Electricity
All rooms are equipped with 220 V.
Electric car
Free charging if parking space is available.
Personal belongings
Personal belongings that are forgotten at the hotel are only stored for 30 days from departure.
Hair dryer
The hairdryer in the room only works when the light is on in the bathroom.
House-keeping
Extra duvets, pillows and a stool for bathing can be arranged on request at reception. Rental of bathrobes, slippers, cots as well as a daily change of bed linen can be arranged on request at the reception and for a fee.
Ice cubes and ice water
Can be picked up at the reception from 8am to 8pm.
Coffee/tea
Can be enjoyed free of charge in the reception lounge.
Credit card
We accept Euro/Master and Visa cards, Diners, Dankort, Union Pay and American Express. There is a credit card fee on certain credit cards.
Kastrup airport
Trains to and from the airport depart approx. every twenty minutes from "København Hovedbanegård" during the day. The trip takes approx. 15 minutes. It is also possible to take metro line M3 in front of the hotel to Kongens Nytorv and here change to metro line M1 towards the airport. It takes approx. 20 minutes by metro.
Taxis can be ordered by contacting reception. We have a fixed price of DKK 249 to the airport. You pay the driver directly with cash or credit card.
Kiosk
There is a vending machine at the reception: Various drinks, sweets and snacks can be bought with cash.
Medical assistance
Inquire at the reception or call the Paramedic on 1813. Life-threatening call 112.
Key card
The hotel is equipped with key cards. If you don't want to be disturbed, you can use the safety lock by turning it to the side. Please hand in the key card upon departure. On departure before 8am you can leave the card in the room.
Parking
When parking outside the hotel, a municipal parking fee is charged around the clock on Monday at 8am to Saturday 5pm. Parking on Saturday evenings as well as Sundays and public holidays is free. It is free to park your electric car in Copenhagen Municipality's parking spaces.
Mail
Will be sent from reception daily.
Restaurants
There are many good restaurants near the hotel. Ask at reception if you want any recommendations or help reserving a table.
Smoking
Is not allowed in the hotel and in the rooms. In case of abuse, a cleaning supplement of DKK 1,000,- will be charged.
Safe box
There is a safe box in the room, at your own risk.
Shopping
Strøget, is a 10-minute walk from the hotel.
In addition, the shopping center "Fisketorvet" is only one stop away by S-train (Dybbølsbro Station).
Shoe shine machine
Available at the luggage storage on the ground floor.
Shoe shine set and sewing set
Found in the bathroom.
Taxa
Contact reception during our opening hours and we can help book a taxi.
Telephone
For calls to other rooms: Enter room number. To contact the reception: Press 9 on the phone.
Toiletries
Can be bought at the reception, where we have a small selection.
Tourist information
Copenhagen Tourist Information, Vesterbrogade 4A close to "København Hovedbanegård", otherwise we are happy to help you at reception.
Laundry service
There are several laundries and dry cleaners nearby. If necessary, ask at the reception for more information. Any laundry must be handed in at the reception no later than 8.30am, to get it back the same day. It is not possible to have clothes washed on Sunday.
Valuables
The hotel cannot accept responsibility for valuables.